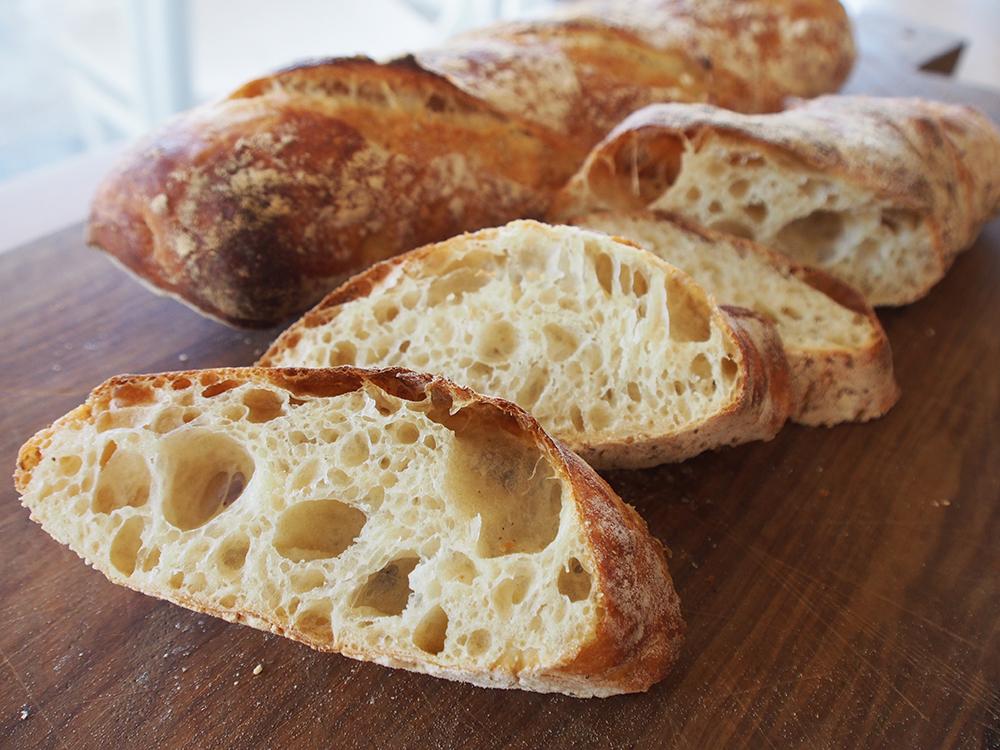 BASIC WHITE
A perfect recipe for baguettes, inspired by the "no knead" method
This is the recipe that got us into baking bread at home. My Dad bakes baguettes exclusively and now bakes two at a time on the Fourneau tray. A few of these are demi baguettes are always at the ready in the freezer; they reheat beautifully into extra crusty loaves that accompany any meal.
Ingredients:
500 g
3 cups
Unbleached white bread flour

2 g

1/2 tsp

Active dry yeast

10 g

2 tsp

Salt

375 g

1

 

5/8 cup

Water
MIX:
Mix all dry ingredients thoroughly.
Add water to dry mixture and mix until all of the flour is saturated.
RISE:
Cover bowl tightly with plastic wrap. Allow dough to rise for 12-18 hours, depending on weather and temperature.
FORM:
Turn dough out onto a floured work surface.
Divide the dough into four parts. Flatten the dough, and then fold it in half. Flatten it again, and then fold it in half again. Pinch the seam closed. Giving it a tug or "cigar" roll can help to elongate the dough further if desired. Set the formed loaf seam side down on your floured surface, and then pinch the end seams closed.
Cover with a floured towel or plastic wrap and let sit for 30 minutes. Fold the loaf one more time along its length, and then let sit for another 30 minutes. Before baking, you can "twist" the ends of the loaves to give them a characteristic baguette point.
When ready to bake, carefully lift the formed loaf onto the baking tray. Alternatively, roll the loaf onto your silicone mat before transferring to the tray.
BAKE:
Pre-heat oven to 475°F - 500ºF while the loaves are rising, at least 45 minutes before you bake.
Score the loaf with three angled slashes using a razor.
Insert the tray into the Fourneau and close the hatch. 
Cook with the hatch closed for 15 minutes. 
Remove hatch and cook with hatch off for an additional 5-10 minutes, depending on your preferred level of browning. Alternatively, remove the tray and cook the loaf in the open-oven for the second stage of baking. This frees the baking chamber for your next loaf.
When finished remove the loaf from the oven and allow it to cool completely.
If you prefer to make two loaves versus four baguettes, modify the cooking time. Bake with the hatch on for 20 minutes and with the hatch off for 5-10+ min.
If you prefer to bake two demi baguettes, side by side, consider rotating the loaves between the first and second stages of baking. Rotate each loaf 180º so that the sides that were facing in are facing out for the second stage of baking. This will result in more even browning.
Bread is done baking when the interior temperature of the loaf reaches 200º F