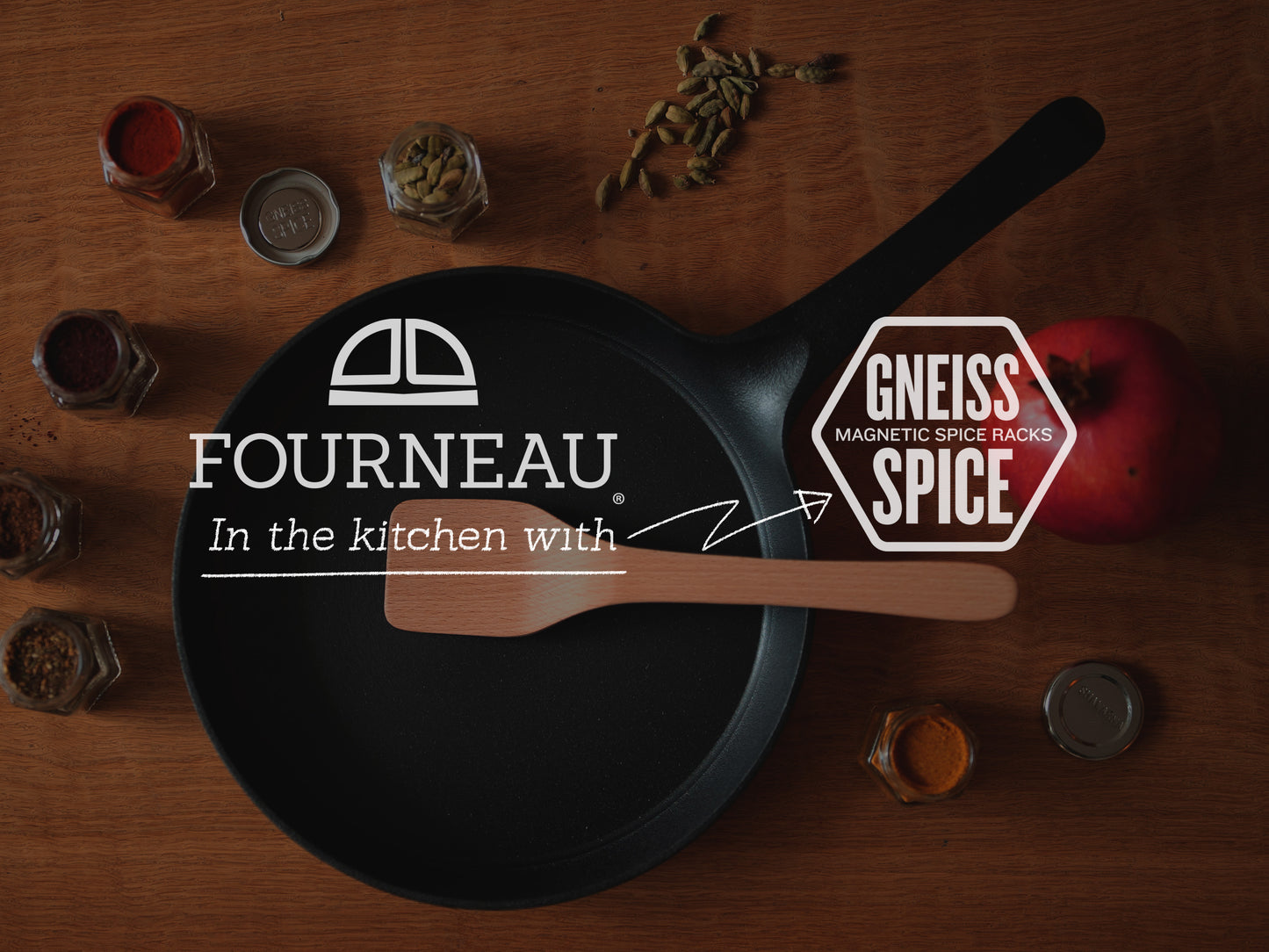 We created this meal recipe with the Lebanese Spice kit from Gneiss. We're always thrilled to get to know companies like Gneiss that offer cool products and who take sustainability seriously.
Gneiss Spice (say "Nice Spice") magnetic jars take your cluttered spice situation and transform it into a functional work of art. The jars can be stored on a fridge or steel backsplash for easy access—no more digging through cabinets! With spices in sights, you'll use them often, becoming a more adventurous and confident chef.  Gneiss Spice carries over 250 organic spices, and refills are packed in compostable packaging, making this a zero-waste spice storage solution.  www.gneissspice.com
Cast Iron Skillet Seared Shawarma Chicken w/ Za'atar Roasted Carrots & Pomegranate Sumac Greens
Serves 4
Ingredients
6 boneless skinless chicken thighs

6 carrots

6-8 ounces of baby arugula or other mixed salad greens

3 tablespoons olive oil

1 teaspoon of high smoke point oil (grapeseed, soy, or peanut)

1 teaspoon of pomegranate molasses

1 teaspoon of red wine vinegar

¼ teaspoon of grainy mustard

1 whole lemon cut into slices for seasoning

2 tablespoons of Gneiss shawarma spice

1 tablespoon of Gneiss cumin (crushed/ground)

1-2 tablespoons of Gneiss za'atar

Bamboo skewers (about 6" long) 

¼ teaspoon of Gneiss sumac

Salt and pepper
Steps:
Carrots: 
Take six medium carrots and cut them into oblong pieces about ¼" thick.
Season carrots with oil, salt and pepper, and ground cumin seeds and place in a cast iron pan or baking sheet.  
Roast in a 450ºF oven for about 30 minutes, stirring occasionally. 
Allow carrots to cool in the pan and sprinkle with za'atar.
Salad Dressing:
Combine the olive oil, pomegranate molasses, vinegar, mustard, sumac, salt and pepper in a salad bowl and mix.
Add lettuce of your choice (we suggest baby arugula). 
Chicken:
Cut six boneless, skinless chicken thighs into 1" by 1" pieces and array them on 8 skewers.
Sprinkle them with salt to taste and dust with shawarma spice on both sides.
Turn the oven to broil and heat a cast iron skillet under the broiler for several minutes. 
Add the high temp oil to the skillet before heating under the broiler. 
TIP: when the oil just starts to smoke, the skillet is hot enough to sear the chicken.
When the pan is lightly smoking, remove it from the broiler and add four skewers.
Place back under the broiler and cook for 3 minutes before flipping and cooking another 3 minutes.
Repeat with the last set of four skewers.
Serve:
Place dressed salad on a plate and top with carrots. Serve the skewer to the side of the salad with a lemon for seasoning.