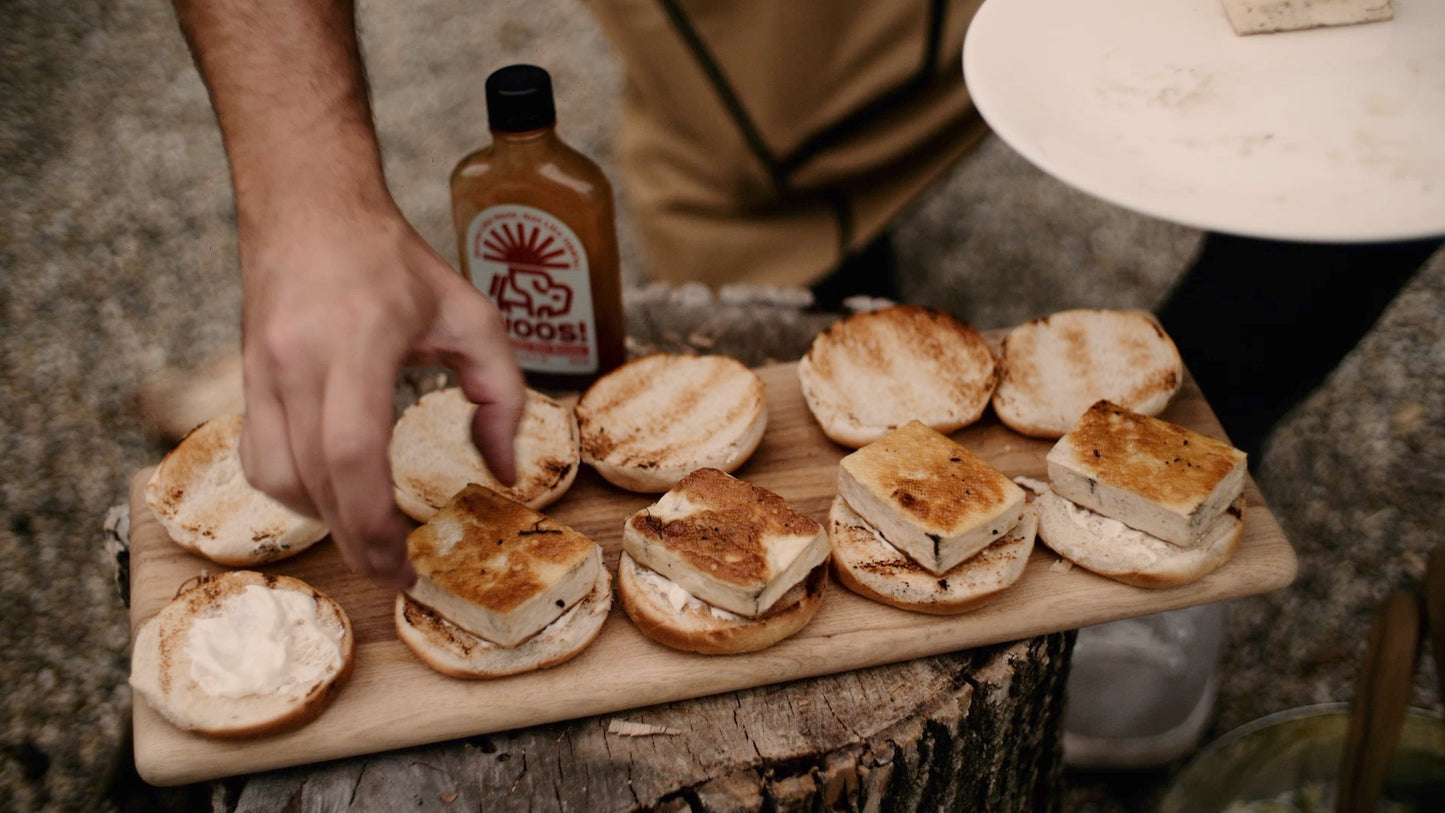 This recipe is sponsored by The Ultimate Grillmaster Giveaway. We teamed up with three of our favorite brands and made some seriously good food outdoors on the fire. Enter the giveaway for a chance to win over $600 worth of outdoor grilling prizes!

This recipe features:
Woos! Hot Sauce
ThermoWorks
GrillKilt
Fourneau Paella Pan
INGREDIENTS:
For the tofu:
1 (14 oz) container extra firm tofu, drained
1 cup of your favorite pickle juice (we used Grillo's)
Healthy splash of Woos! Good Luck Hot Sauce
Grapeseed oil for frying
Buns for serving

For the slaw:
1/2 small green cabbage
1T Acid League Garden Heat Vinegar or Apple Cider Vinegar
Splash of Woos! Ultimate Hot Sauce
2T olive oil
Salt
Pepper

For the mayo:
1 garlic clove, finely chopped or pressed.
1/2 cup mayo

DIRECTIONS:
Marinate the tofu in pickle juice and Woos! hot sauce for 4 hours (or as long as overnight) in the fridge.
Right before cooking, make the slaw. In a medium bowl whisk together 1T vinegar, Splash of Woos! hot sauce, 2T olive oil, salt, pepper. Shred 1/2 small green cabbage and add it to the slaw dressing. 
Make the mayo. In a small bowl whisk together mayo and garlic.

Build a fire. Set the paella pan or cast iron over direct fire. Add a large glug of grapeseed oil. Test the temperature of the oil with an infrared thermometer, with the goal being approximately 450-500 degrees Fahrenheit. Fry tofu 3-4 minutes on each side, or until each side is golden brown. 
Serve on buns with garlic mayo and cabbage slaw and a little more Woos! if you you like more spice (we do!).