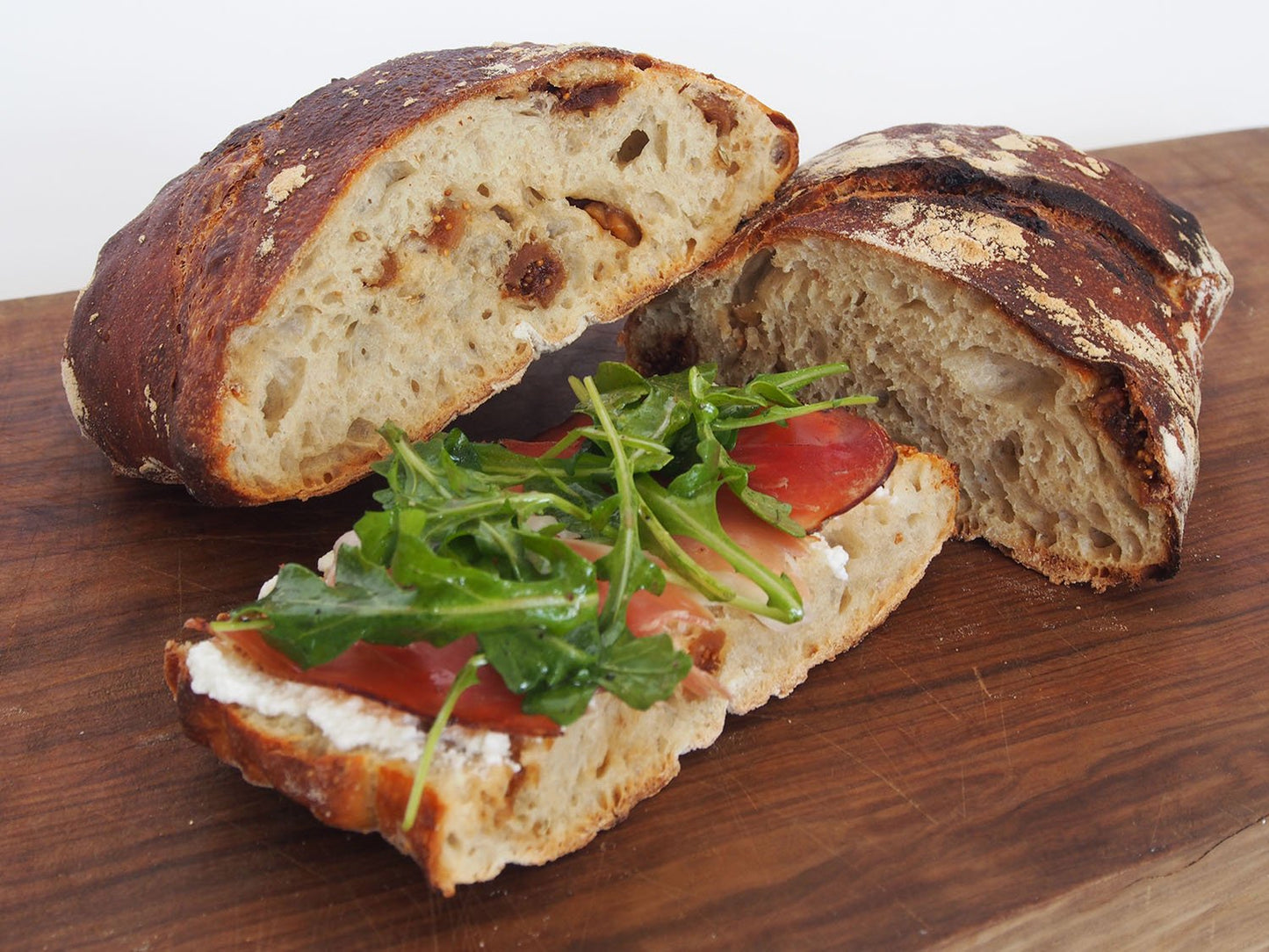 Dried figs and crushed fennel are a marriage made in bread heaven. I adore having this loaf as a breakfast bread, but it is also wonderful as the foundation for an open faced sandwich. My favorite recipe is to spread a layer of fresh ricotta cheese on the bread, and then top it with speck (or prosciutto) and vinaigrette-dressed arugula. It's a perfect light lunch or snack.
This recipe combines white bread flour with whole germ APF; this is whole wheat flour that has had the bran sifted out, but the flour still contains the wheat germ. If you are not able to find whole germ flour near you, I recommend using "white whole wheat."
Recipe: Fig + Crushed Fennel Bread
350g Unbleached white bread flour
150g Whole germ all purpose flour (or white whole wheat)
375g Water
130g Sliced dried figs (be sure to remove the hard stems)
2 tsp Crushed fennel seed (crush with a mortar and pestle)
10g   Sea salt
2g     Yeast
see bottom of page for volumetric measurements
MIX

Mix all dry ingredients together thoroughly, including fennel seed.
Add figs and mix by hand.
Add water to dry mixture and mix until all of the flour is saturated.

RISE
Cover bowl tightly with plastic wrap. Allow dough to rise for 12-18 hours, depending on weather and temperature.
FORM

Turn dough out onto floured work surface.
Divide dough into two portions.
Flatten dough portions and envelope fold, then roll fold and seal seam. If any fig slices are sticking out, stick them back in.
Allow to rise covered for at least an hour. Preheat oven to 485 while bread is resting.
When ready to bake, roll or lift the formed loaf onto the peel dusted with bran or cornmeal.
Score the loaf with three deep angled slashes, or a single long slash.



BAKE
Slide loaf off peel into the Fourneau and close hatch. Cook with hatch closed for 15-20 minutes.
Remove hatch and cook with hatch off for an additional 5 minutes. Note that the sugars in the loaf will cause extra caramelization, thus the slightly shorter secondary bake.
Remove from oven and allow to cool completely.
Recipe: Fig + Crushed Fennel Bread (by volume)
2 cups     Unbleached white bread flour
1 cup       Whole germ all purpose flour (or white whole wheat)
1 3/4 cup Water
1/2 cup    Sliced dried figs (be sure to remove the hard stems)
2 tsp        Crushed fennel seed (crush with a mortar and pestle)
1 tsp        Sea salt
1/2 tsp     Yeast