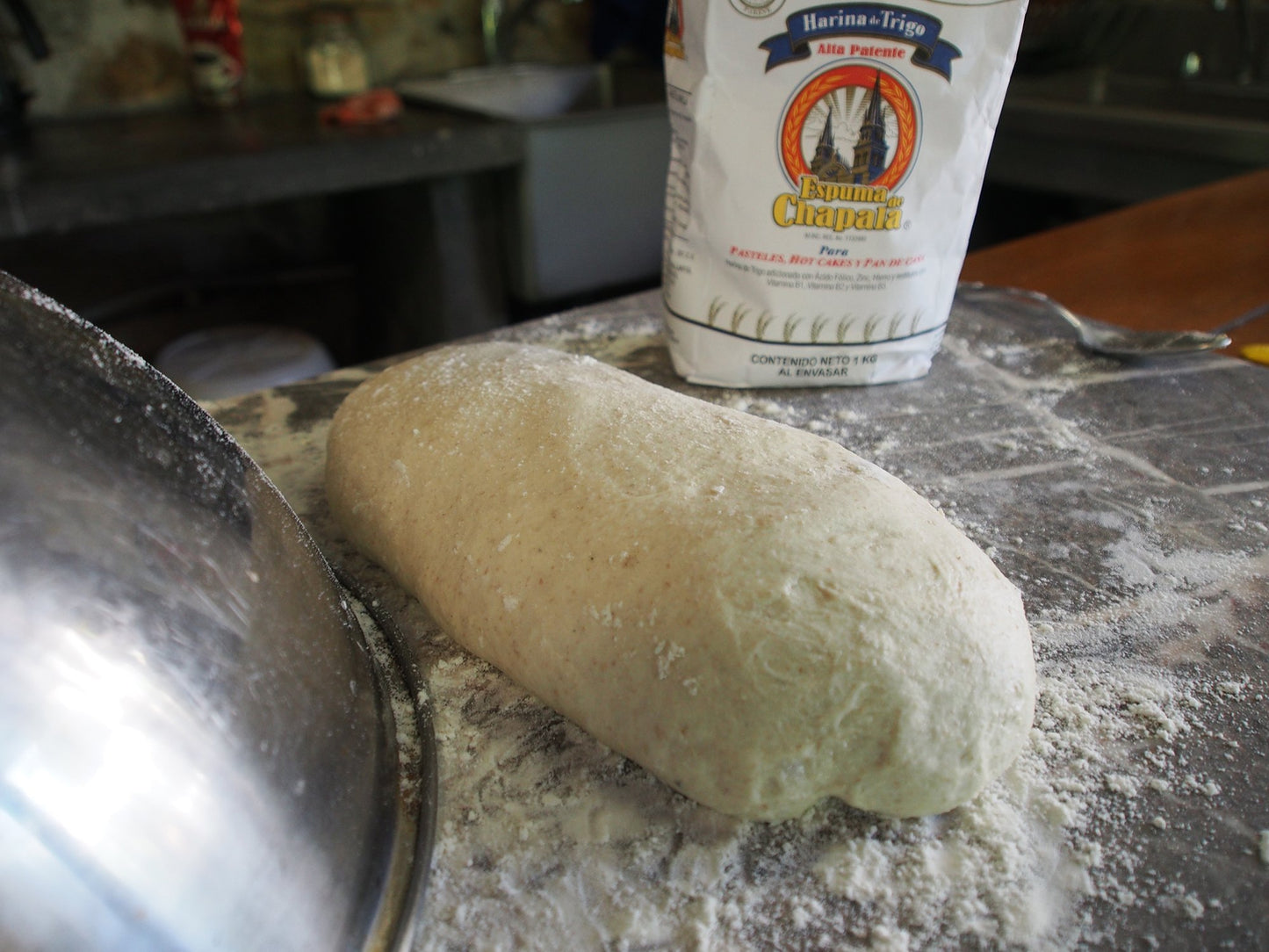 Yelapa, Mexico is a small village south of Puerto Vallarta. Accessible only by boat, it has one of the most beautiful swimming beaches in the bay. We made our way to Yelapa to enjoy the peace and quiet, and to do some bread baking in the open air kitchen built by our amazing host.
After our experiment in Sayulita, we decided to stick to making a 100% white loaf so that we had the fewest number of variables to contend with. We mixed up our dough in the evening, and were most grateful that our host protected the rising dough from  raccoons by placing it in the dishwasher overnight.
The next morning, we got started on forming. The air was very cool, and the dough behaved almost as if it had been refrigerated. We let it have its bench rest on a a marble slab, which stayed quite cool throughout the rise time. As before in Sayulita, we had some oven issues to contend with. The oven was a massive commercial oven (brought to Yelapa by boat!) and it luckily had a thermometer inside. However, it took about two hours to come up to temperature, and never broke 440 F. Significantly better, but not ideal. However, since we were on vacation, sitting around in the sunshine waiting for the oven to warm up suited us just fine ...
We put the loaves into the Fourneau, baked them for about 25 minutes (longer due to the lower temperature) and were pretty pleased when we opened the hatch for the open baking phase. The loaves had great oven spring, and really rose up despite being made from soft wheat.
We baked them for an additional 10 minutes to brown up the crust as much as possible, and got ready for taste testing ...
The bread was good! Great crust, a moist interior, reasonably good flavor. We decided to enjoy it a few different ways ... first, with butter and homemade passion fruit and berry jams (also of course made by our host) ... and then, it was time to make lunch. Recipe coming soon!