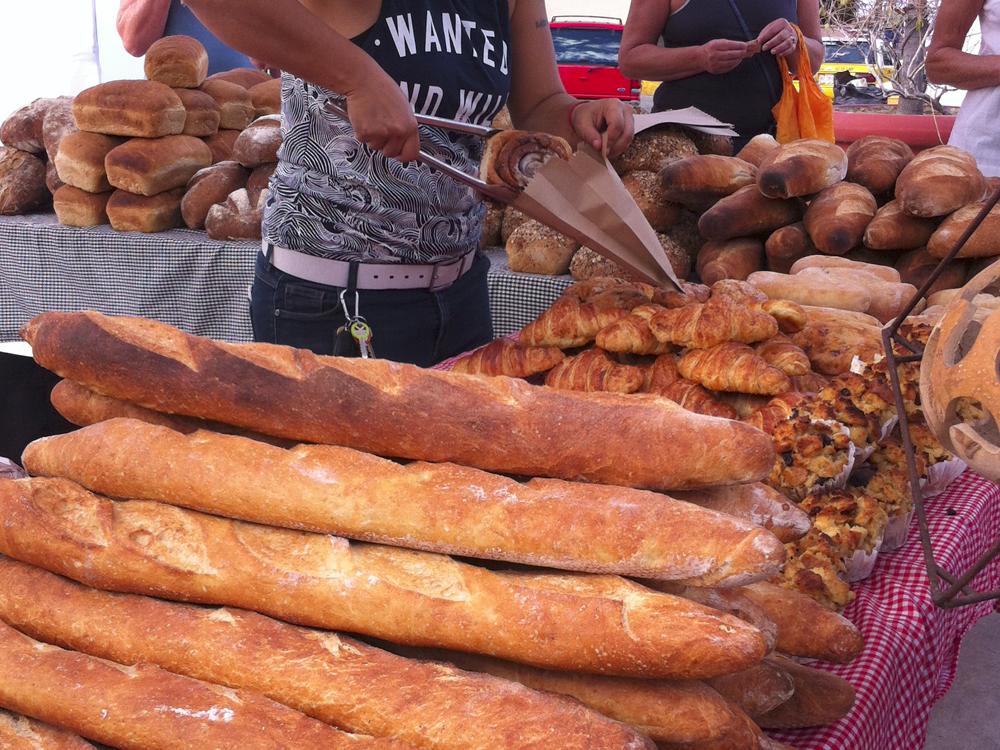 Everyone knows that pastries are popular in Mexico; who hasn't gone to a panaderia and selected a sweet, pillowy confection filled with cream and covered with sugar? While we knew we would find pastries, we went on our trip to Puerto Vallarta to discover bread. Good bread. The kind of bread that is made by hand, and that fans of the Fourneau Oven make at home ... and we found it!

Sort of ...
As we hoped, and as we expected, the bread was different in subtle ways that were really quite fascinating. We came across several examples of gorgeous bread at the Puerto Vallarta farmers market; several producers there are making artisanal breads of all kinds. We of course had to buy several loaves to try them out for ourselves, and experience what the bakers here are creating.
The first major difference that we were able to detect is that the bread is baked a bit less. The norm is not a deep golden brown, but rather a soft, lightly toasted brown. After buying the bread and tearing into it, it was also obvious that this results in a thinner, softer crust.
The crumb of the breads we tried looked beautiful, but they were in general much less moist and resilient; they would be best described as light and airy. Even the naturally leavened sourdough baguette had this quality. This is when we started to suspect that the flour that is being used in this part of North America is generally much softer than what we are used to. It had nice flavor, but was really meant to be eaten with butter and jam ... which is exactly what people do. (And it is delicious!)
After this investigation, we of course wanted to try to bake some bread with local flour and see what the Fourneau could do. We asked one of the vendors at the PV Market where she bought her flour, and she directed us to her source; we wanted to buy both white flour and whole wheat flour (harina integral) so getting the inside scoop was essential. It is really hard to find whole wheat flour in Mexico, but not impossible. The best place to look is at a "seeds and cereals" shop (semillas y cereales). You'll find all kinds of great stuff at these stores, including tons of fun pastas.
After gathering all of our ingredients, we left Puerto Vallarta and headed out to Sayulita, a small beach town in Nayarit, about an hour and a half away. We rented a bungalow with an outdoor kitchen and were excited by the prospect of baking bread under palm trees.
We made our dough upon our arrival, and planned to make our bread the next morning. Our first batch was a blend of whole wheat and white in a ratio that we use all the time — 350 grams of white and 150 grams of whole wheat. The dough rose for 14 hours, and looked incredibly happy and bubbly.

Our dough was clearly also enjoying the warm weather.
Our suspicions about the local flour being very soft were confirmed when we started to form the loaves for baking. After being formed, they immediately began to spread and slump. No amount of kneading could get them to stay put. This was not our only problem; while the tiny oven in our condo fit the Fourneau, temperature control was an issue. The oven dial didn't actually have temperatures listed, just "levels." We blasted it at "level five" for about an hour and hoped for the best. (Note to self; always travel with an oven thermometer.)
After almost 45 minutes, a decent loaf emerged. We considered it a minor miracle! While certainly not one of our best loaves, it was an accomplishment. We made a tasty bread using low gluten flour and cooked at a less than ideal temperature. Upon sampling it, it was remarkable how similarly it tasted to the bread we had bought at the market. It's all about the flour!
After spending some time baking and surfing in Sayulita, we decided to head to the south end of Banderas Bay. We of course brought the Fourneau with us, and after a bus ride, a taxi ride, a speed boat ride and a river forging, we made our way to Yelapa. Stay tuned!