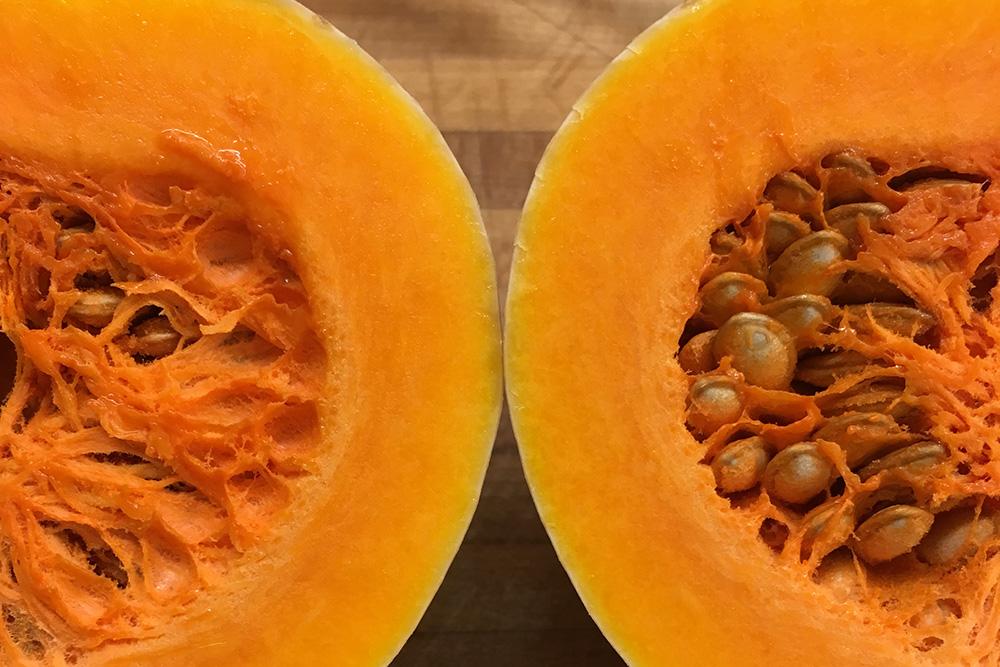 When October rolls around and the days become cooler, the comforting and warming taste of roasted squash feels like the perfect sunday side dish. We've always roasted squash with butter, herbs, and sometimes a bit of maple syrup, and we love the way the flavors come together when mixed with pasta and parmesan cheese. After making this dish recently, we decided to give the combination a try in bread form. As the loaves baked and the smells filled the kitchen, we realized that this could be a perfect bread for Thanksgiving. Let us know if you think you'll give it a try for your holiday meal!
Another fun detail in this recipe is the use of freshly ground oat flour. This happened entirely out of necessity when we realized we were short on bread flour. To make the flour, we ground 100 grams of rolled oats in the blender. The oat flour added a nice color to the loaf and made the texture of the crumb a bit more dense.
Recipe: Roasted Squash + Herb Pesto Bread
400g Unbleached white bread flour
100g Freshly ground oat flour (see note above)
375g Water
150g Cubed Roasted Butternut Squash (or other similar variety)
75g   Herb Pesto (see recipe below)
10g   Sea salt
2g     Yeast
Herb Pesto
Take a small handful of sage and oregano or other savory herbs and finely chop them. In a small bowl, drizzle the herbs with oil just to moisten them into a paste. Do not add too much oil to the mix. Sprinkle in a few pinches of coarse salt. 
see bottom of page for volumetric measurements
MIX

Mix all dry ingredients together thoroughly. 
Add water to dry mixture and mix until all of the flour is saturated.

You will not need herb pesto or squash until the next day, so if you prepare it in advance, be sure to refrigerate.

RISE
Cover bowl tightly with plastic wrap. Allow dough to rise for 12-18 hours, depending on weather and temperature.
FORM

Turn dough out onto floured work surface.
Divide dough into two portions.
Shape dough portions carefully (see photo) and then dot the surface with squash. Create the first envelope fold, and then add more squash. Complete the envelope fold and then roll fold and seal seam.

Allow to rest for about 45 minutes.

Turn loaves over so seam side is up, and slightly flatten them. Add a line of the herb pesto down the center, and then create the first envelope fold. Add another line of pesto down the center after the first folding, then complete the envelope fold. Roll fold and seal the seam.


Allow to rise covered for 45 min to an hour. Preheat oven to 485 while bread is resting.
When ready to bake, roll or lift the formed loaf onto the peel dusted with bran or cornmeal.
Score the loaf with a single long slash.



BAKE
Slide loaf off peel into the Fourneau and close hatch. Cook with hatch closed for 15-20 minutes.
Remove hatch and cook with hatch off for an additional 5 minutes. 
Remove from oven and allow to cool completely.
You'll really only need a small amount of squash for each loaf. Out of a medium sized butternut squash, we only used about half of the "neck" for both loaves that we made in this recipe. Cut the squash into small cubes and dot the surface of the dough.
After folding in the squash, you'll want to let the bread "rest" and recover for about 45 minutes before folding in the pesto. When adding the pesto, be careful to not add to much oil to the dough. Doing so will make it very difficult to seal the seam and get the bread to stick to itself. 
Forming the bread twice and adding each ingredient in a different layer allows for a more varied and layered appearance on the interior. It's also delicious to enjoy a different taste in each bite; some sweet, and some savory.
Recipe: Roasted Squash + Herb Pesto Bread
2.5 cups   Unbleached white bread flour
.5 cup       Fresh Ground Oat Flour
1 3/4 cup  Water
1/2 cup     Cubed Roasted Butternut Squash (or other similar variety)
1/4 cup     Herb Pesto (see recipe above)
1 tsp        Sea salt
1/2 tsp     Yeast